Day 18: I'm pretty sure there were only 17 days in this trip.
Day 18: I'm pretty sure there were only 17 days in this trip.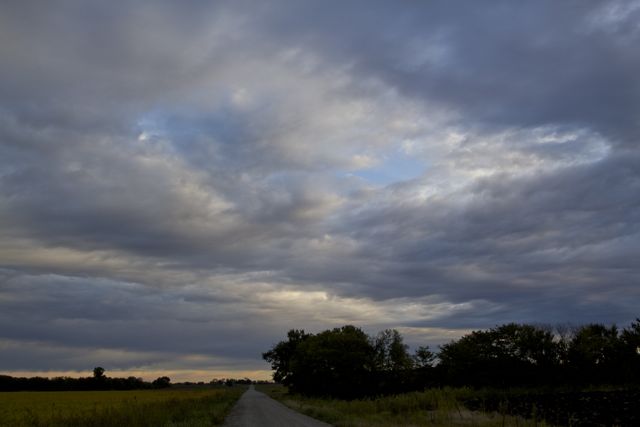 (Author's Note: I got back to civilization, and civilization quickly conspired to keep me from finishing up the trip blog. Fortunately only one blogpost, this one, went unpublished. Here it is! Road trip postscript!)
In my book, only rednecks and UFO abductees are supposed to wake up in cornfields outside Emporia, Kansas. But there I was. I had done that thing where I, ya know, don't brush my teeth the night before. Between the latte, the bacon burger, the truffle fries, the Guinness, and the gummi bears from the night before, my mouth tasted like death in a bad mood.
After remedying that situation, I headed back south on I-35, realizing glumly that this would be my entire road home. (Part of the appeal of taking 183 the whole way down was bypassing I-35 completely.) Before long I was in Wichita, and retracing the route that I'd taken north to get into the wilderness.
One amusing bit came in southern Oklahoma, where not once but TWICE I exited the highway for a "Scenic Turnout" sign. In each case, it was… okay Oklahomans? All I'm saying is you should take a road trip to Montana. That's all I'm saying.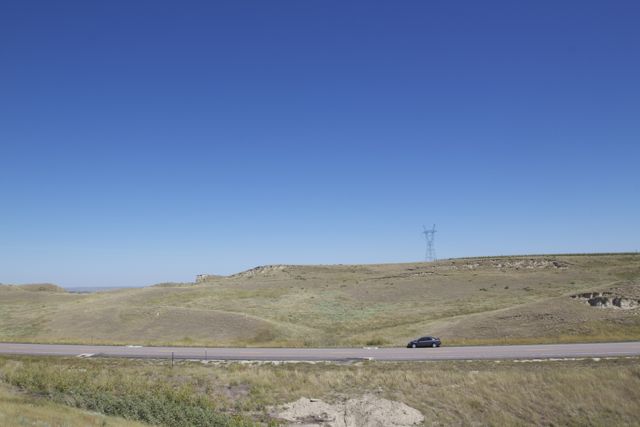 Slowly, I was seeing signs of home. Just south of Norman I passed my first dead armadillo. At the Texas border, I saw my first "BURN BAN IN EFFECT" sign. North of Dallas, the first asshole cut me off for no particular reason.
Five thousand miles of wide-open spaces had made me a bit of a speed demon, and in DFW I noticed that, for practically the first time in two weeks, my speed was limited by the traffic of other cars, not by my own whim.
I made a detour through my hometowns, Grapevine and Colleyville, to confirm that the continuous, Doozer-like construction there is still underway. It is. A stop at Braum's for a late lunch (God I wish Austin had one) and it was the home stretch. At 6 pm on Wednesday evening, with the trip odometer reading 5360.1, I pulled back into Brent and Amalia's driveway, where I promptly locked my keys in the car.
Kidding.
Since getting back people have asked me, with apparent sincerity, whether I found myself out there. Hell, I dunno. It was an incredible adventure that went about as well as I could have hoped. It was perfectly timed for the weird transition that my life is taking. And I had a marmot walk right up to me and scope me for food. Who could ask for anything more?
And now…
KEVIN'S ROAD TRIP AWARDS!
• Thing I wish I'd practiced before leaving on the trip: Bear-bag hanging. Turns out it's a pain in the ass.
• Thing I know nothing more about now than I did when I left: Camp cooking. Or, just, y'know, cooking.
• Risk That Paid Off: Leaving my heavy jacket behind on the backpacking trip. If it had poured rain on me, it woulda sucked. Speaking of which,
• Thing That Was Better Than I Dared Hope It Would Be: The weather. The only consistent rain shower I got was driving out of Yellowstone; the "record high" temperatures in Glacier National Park were right in my comfort zone.
• Thing That Was Way Worse Than I Thought It Would Be: Sleeping. That's maybe the best indication that I'm not meant to be a permanent outdoorsman.
• Best Food: The "Smoke" burger, Burger Bar at the Casbah, Lawrence KS.
• Texas Thing I Missed The Most: the final night of the Out of Bounds Comedy Festival, which included by all accounts a spectacular roast of Tom Booker, and—again, it pains me to not have seen this—Tim Meadows, playing Barack Obama, having sex with a cat, played by my friend Peter Rogers.
• Road-Trip Thing I Miss the Most: Grass, just growing on its own, without any help from sprinklers. It's a bit hard to imagine.
• Unexpected Treat: Listening to podcasts, which I never get the opportunity to do. Highly recommended: My Brother My Brother and Me, Stuff You Should Know, and Judge John Hodgman.
• Near-Death Experience: Narrowly missing a grizzly bear near the bottom of the Highline Trail. I heard about him from a breathless tourist who'd seen him ten feet off the trail, not five minutes after I'd been there.
• Low point of the trip: Waiting miserably for a tour bus at the end of my Highline Trail excursion, eventually having to hitchhike to get back to my car.
• High point of the trip: Reaching the packbridge at the tail end of my backpacking trip. I felt like a superhero.
One random tidbit that I never got around to sharing: I sketched out my backpack while in the middle of nowhere. In case you were wondering how to cram five days' worth of stuff onto your back.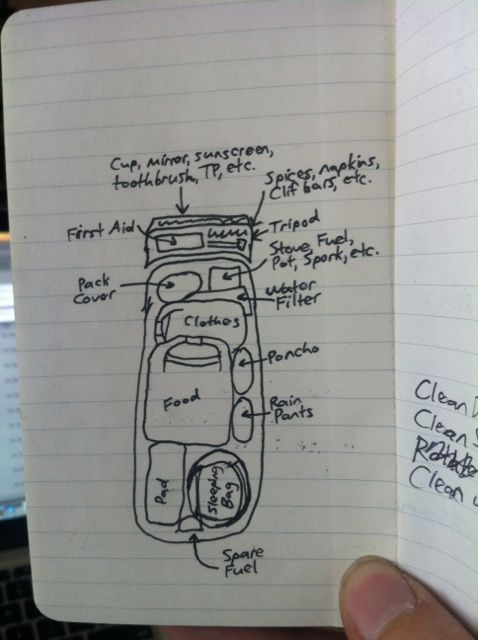 And one amazing postscript on my trip to the long-abandoned Pattonsburg Methodist Church. Two weeks after getting back, I was shuttling boxes between my new apartment and various storage units. At one point I moved a long, flat box with various old papers in it. On a hunch, I took a peek inside.
Yep, there was the birthday card I'd woken up to on my 16th birthday, which I made passing mention to in the previous entry.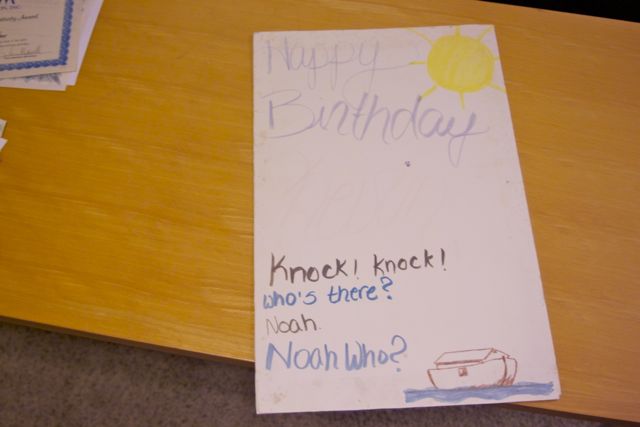 In closing I wanna say thanks to Altec Lansing, for giving my car a very ghetto iPhone stereo hookup…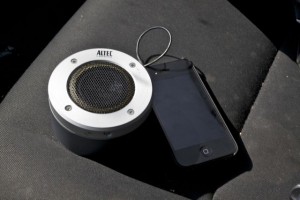 …and to my car, Cher, for getting me 5,360 miles without so much as a gripe. Much like Cher herself, I have a grudging respect for you.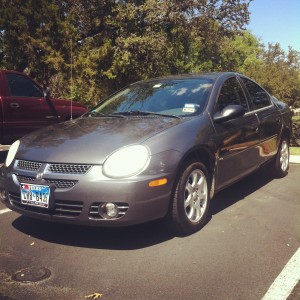 That's it, man. I've also just finished processing all my trip pictures (yeah I KNOW it's been two months), so I'll get those posted momentarily.