Day 16: A slight change of plans
Day 16: A slight change of plans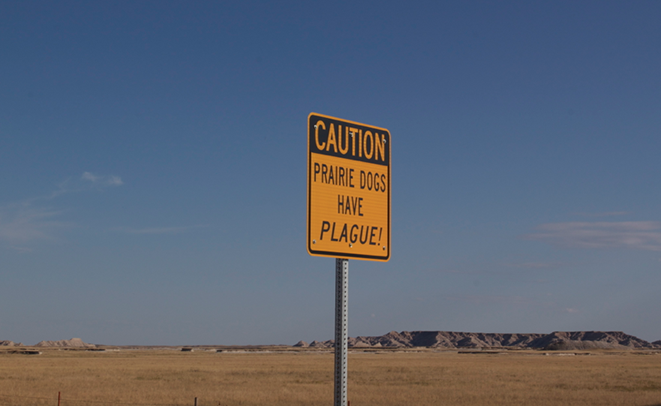 I'd driven the windy road from Wall to the Badlands campground in absolute darkness the previous night, with no idea what was around me. Turns out, a lot.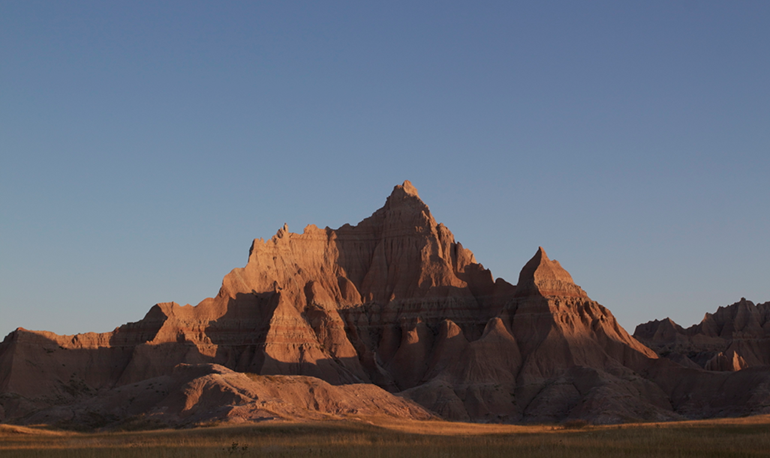 I leisurely (leisurelily?) backtracked through the park as the rising sun colored the landscape a beautiful orange. There were almost a dozen scenic turnouts, giving different perspectives on the alien landscape.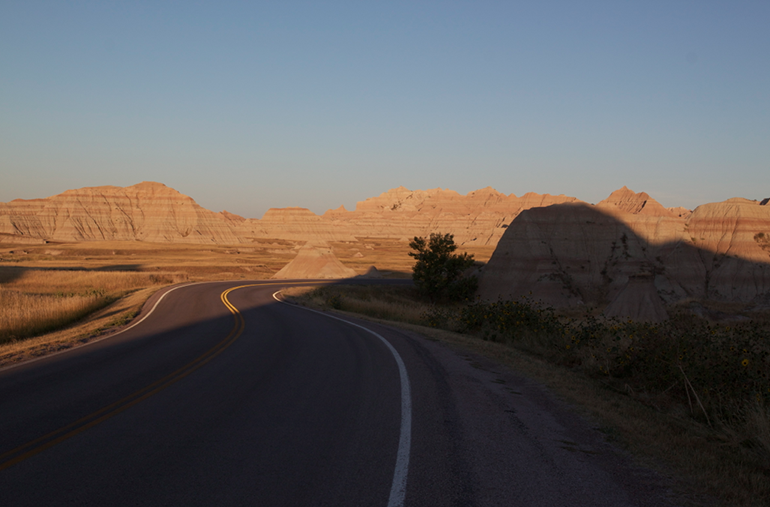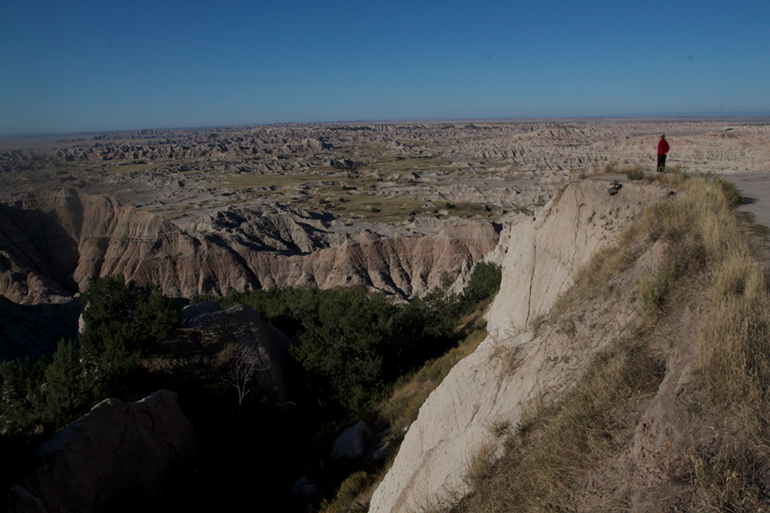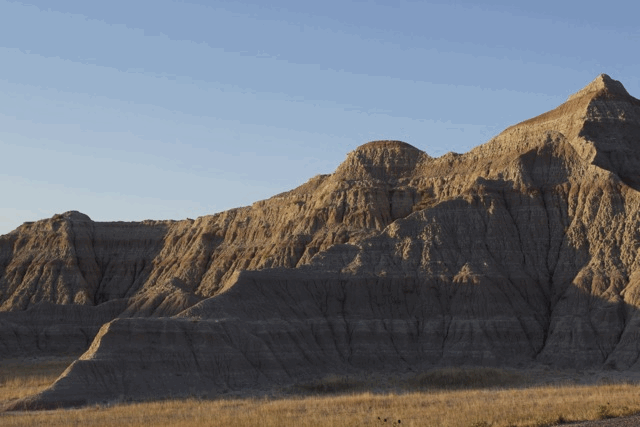 I took one proper hike, a rough trail among the rocks that's scarcely even marked and made me slightly skeered of the prospect of taking a wrong turn and getting lost. Midway I got to climb up a wobbly log-and-cable rope-ladder thing, which was even more of an adventure to climb down.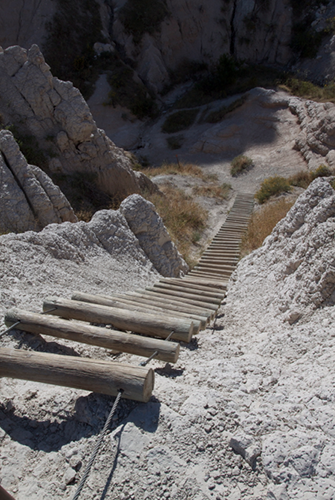 The usual assortment of wildlife grazed with its typical blasé attitude: prairie dogs, bighorn sheep, giant crows that would just as soon eat your eyeball for breakfast as not.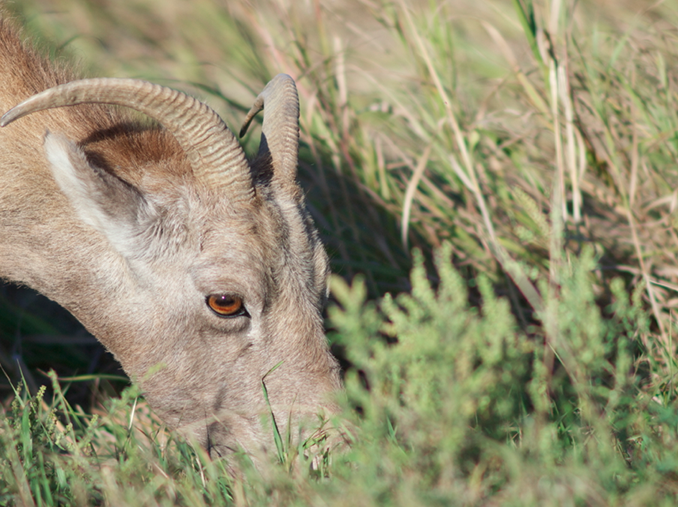 By midmorning I was done with the Badlands, headed east into the middle of South Dakota, taking—all together now—"a lesser-used highway that ran parallel to the Interstate." This 70-mile stretch gave me some of the best abandoned porn of the entire trip. In a "town" called Belvidere, I saw an ancient overgrown motel, and in the next field over, explored a house and shed that have been sitting empty for decades.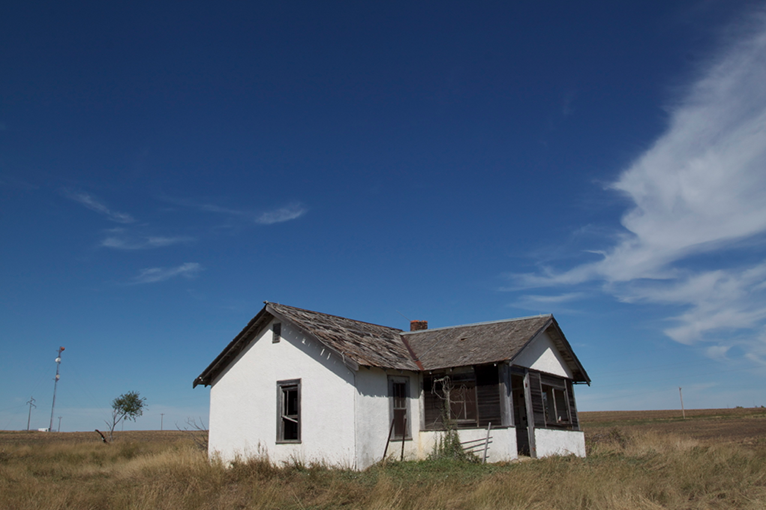 The next town, Okaton, had a grain elevator that was partly collapsed. Half of you just groaned out loud at how boring that sounds; the other half are my sister.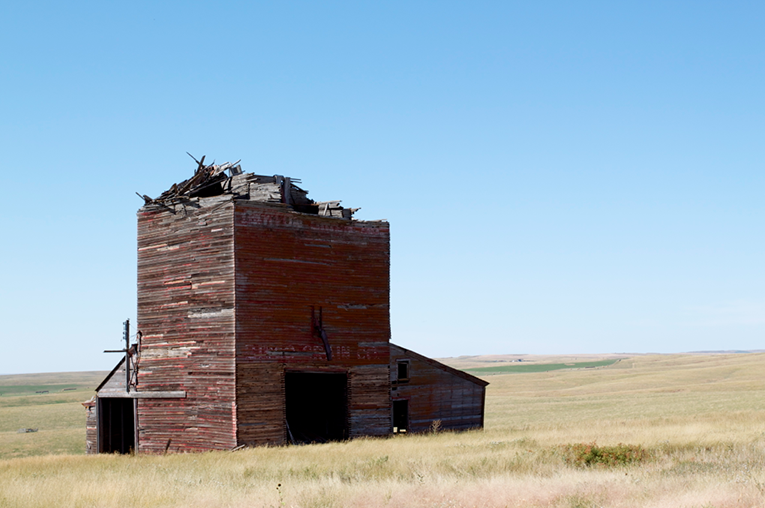 Along the way I also passed within a few miles of two rather odd South Dakota geographic distinctions. The first was the pole of inaccessibility, the spot in North America that's farthest (1,024 miles) from any ocean. The second was, up until recently, McFarthest. Just click.
Made a left turn at Highway 83 and drove through open prairie to reach Pierre, which piqued my interest by being the second-smallest state capitol, and probably the only one that sits at the end of a dead-end 30-mile road. Why the heck not, I say.
It's a nice enough town. The state capitol building is cute, he said with the smugness only an Austinite can muster, and I ate something called a "pizza burger" at a walk-up stand called Zesto's that seemed to be a local institution. It was good for what it was.
It was 86 degrees, warmest I'd seen since Texas, as I left Pierre and turned my car, once and for all, southward.
Now, near Pierre along I-90, the town of Presho, South Dakota (population 497) lives its sleepy little life. There is absolutely nothing notable about Presho to an Austinite like myself, except for one odd bit of trivia: it's where US Highway 183 begins. 1100 miles later, after many twists and turns, that very same highway passes straight through north Austin.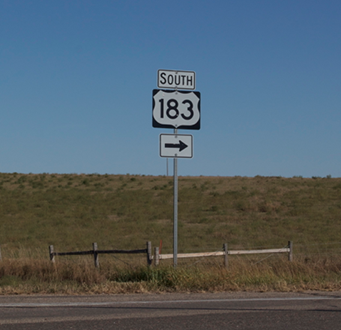 So according to the original plan, Presho was to be my gateway home: take the 183 exit off of I-90, turn right, drive for TWO DAYS, then take the Anderson Mill exit and I was back where I started. For all the hours I've spent driving up and down 183, it had a certain appeal; how many people can say they've driven 80 percent of it?
But then, I was still two days ahead of schedule. I didn't quite feel the pull of 512 just yet. And so I kept heading east on I-90. (Anyway how many people want to say they've drive 80 percent of Highway 183?)
There are a few more oddball tourist stops in the eastern half of the state: the South Dakota Tractor Museum, and what was advertised on every billboard as "The World's Only Corn Palace." (Should I have been expecting there to be more than one?)
At Sioux Falls, SD, I turned south towards Sioux City, IA. (I kept having to check which was which.) My mission was to find some Wi-Fi and catch up (somewhat) on the blog. Sioux City seemed like a very nice place, but then maybe I just hadn't seen a proper city in awhile—I realized that it was the largest town I'd passed through since Missoula, 11 days earlier. I struck gold when I found an Irish pub there that had both Wi-Fi and Monday Night Football.* I ate fish 'n chips, drank Guinness, and had a relaxing evening before continuing in the darkness down into Nebraska and finding a spot to sleep somewhere north of Omaha. The next morning I was to keep heading southeast.
Okay, so the eponymous "slight change of plans" was more like a nine-hour detour. I was adding a full day to my trip and heading to a place that you've never heard of, and never will again: Pattonsburg, Missouri.
*The Yelp app for your phone is a Godsend when in strange places.