Iceland Day 2: I Think the Swans Stole It
Iceland Day 2: I Think the Swans Stole It
First, some terminology: The Ring Road is the big drive. The Golden Circle is the little drive. Confusing I know.
Today I took the little drive, splitting a car rental with two Brits (Phil and Katy!) and two Swedes (Peter and Daniel!) to visit some of the best views in Iceland within spitting distance of Reykjavik.
It was still overcast when I left the Airbnb—24 hours and counting with no sun—and walked across downtown to the car rental. I picked up the gang in my shiny new Kia hatchback and we headed east out of town, up a wide valley, the low clouds stubbornly refusing to show us the tops of the surrounding hills. As we got higher, white streaks of remnant snow joined the green-gray-brown of the landscape. Native Icelandic horses could be seen along the roadside, as well as various birds—especially swans. An unsettling number of swans.
After an hour we made our first stop: Þingvellir National Park. (Þ is pronounced "th" as in "this," and ð is pronounced "th" as in "thing." Yer welcome.)
There we tromped against the wind along a boardwalk, down a Middle-Earth canyon, to the first of two terrifically powerful waterfalls that misted us generously. I requested windshield wipers for my glasses.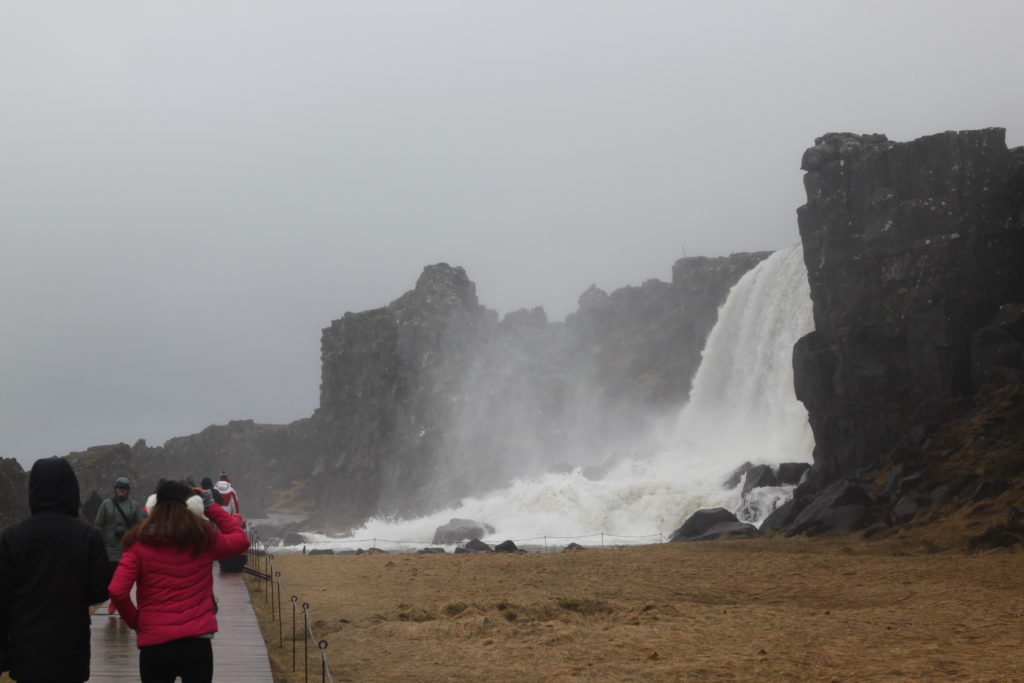 45 minutes later we were at Gullfoss, which is professional-grade waterfalling, A+, would waterfall again.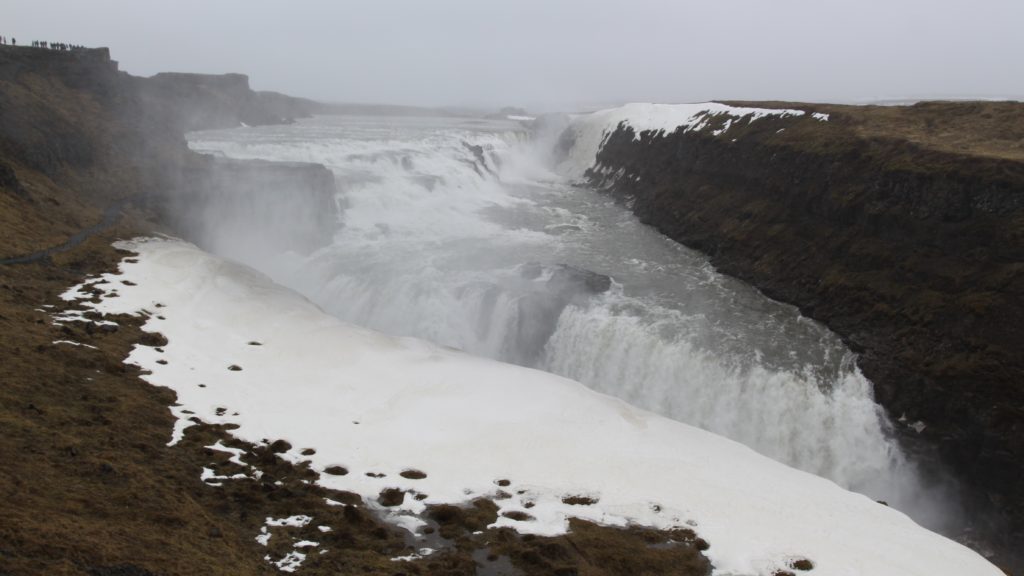 Thirdly, after an errant drive down a comically bumpy road, we made it to the geysers at Haukadalur. One of them is named Geysir. We got the word "geyser" from THIS EXACT GEYSER. It's inactive today, but another one called Strokkur burst into the air three times during our brief visit. It was a bubbly-cauldron landscape of weirdness. I'm gonna go with Monty Python & the Holy Grail for my movie comparison, just for the persistent random blowing smoke.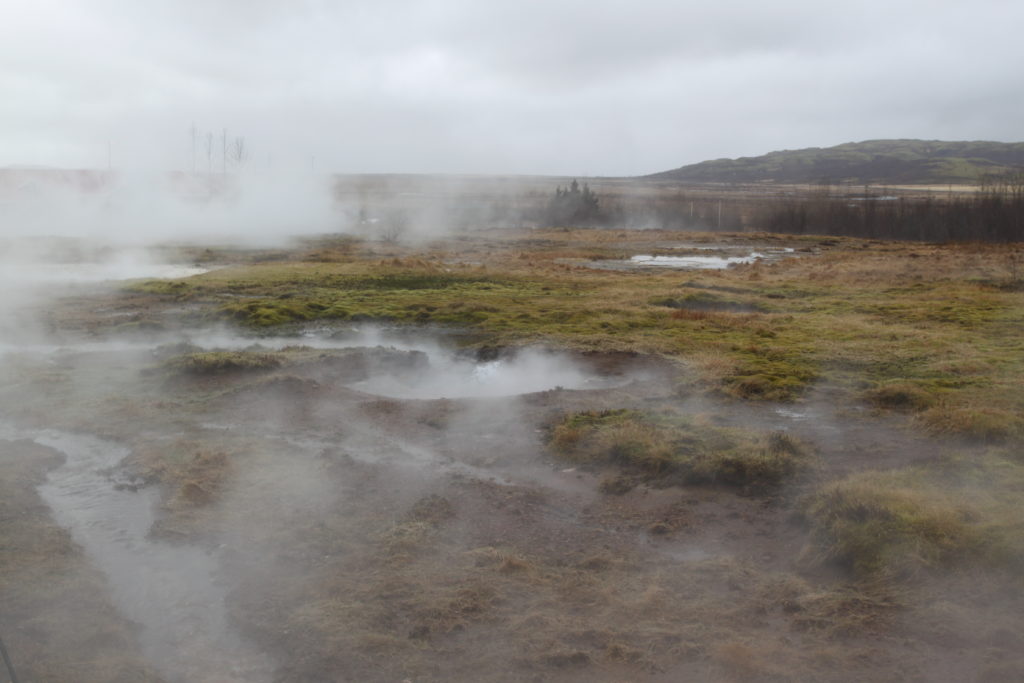 The weather throughout the day was nose-runny cold and generally miserable. I believe Forrest Gump would have called it "little bitty stingin' rain." But, you know what? Good! One doesn't come to Iceland for its blue-sky 70-degree afternoons. This felt like an authentic experience. (Plus, there were free refills on the lamb soup at the Gullfoss cafeteria.)
And then came our final stop, the Secret Lagoon, my first Icelandic thermal bath experience.
Thermal baths are to Icelanders what saunas are to Finns, or what breakfast tacos are to Austinites. So, being in Rome, we unbundled ourselves of our various layers; took the required shower (there were diagrams showing the body parts to wash); threw on swimsuits; tiptoed hurriedly from the dressing-room door through the misty 40-degree air; and plopped in.
Ohhhh yes. I could get used to this.
We were quickly up to our chins in the exceptionally warm water, comfy as puppies. As our bodies acclimated and grew hot, we could comfortably lift ourselves into the frosty air, letting the thermal currents sort themselves out. I drifted off alone for a bit and found a shallow spot where I could sit half out of the water. That very same freezing drizzle, which had rendered me miserable an hour before, now bounced harmlessly away. The sun peeked through the clouds for one of the few times that day, and I even glimpsed bits of blue sky above. I smiled.
Somehow my hat went missing in the middle of all this; no idea how that happened. So tonight I'll be a meat popsicle, and tomorrow morning I'll pay way too many moneys (ohmygodsoexpensivehere) for a new one.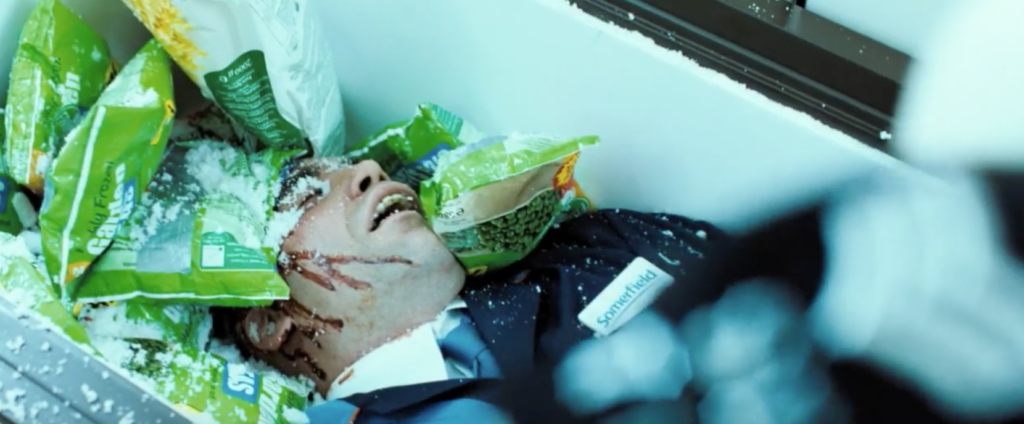 It was less of a whirlwind day than this entry makes it seem. Quite a full one, though. By 5:30pm we were heading back to Reykjavik through the intermittent rain, over a snowy mountain pass, past more horses and swans ohmygodsomanyswans.
Tonight: dinner and an improv-festival after-party. Tomorrow: a much more chillax day, mehopes, and the last in Reykjavik. Sunday: I pick up my rented camper van, and the trip really begins.