Iceland Day 8: Treat Yoself
Iceland Day 8: Treat Yoself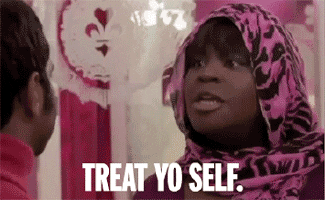 A fresh layer of snow had fallen during the night, and would continue to fall all morning. It's funny how surprising this is for me; I had mentally prepared myself for the possibility of rain or ice on this trip, but steady snowfall in mid-April didn't seem likely. How wrong I was.
But the show must go on! And so I gently slid Björk in a counterclockwise loop around Lake Myvatn, stopping first at a group of "pseudo-craters" that are the product of giant steam explosions from out of the earth in the ancient past. That would be quite a thing if it happened again, no? I've kinda been psyching myself up for sudden volcanic activity the whole time I've been here. (Or ice. Or rain. Just not snow!)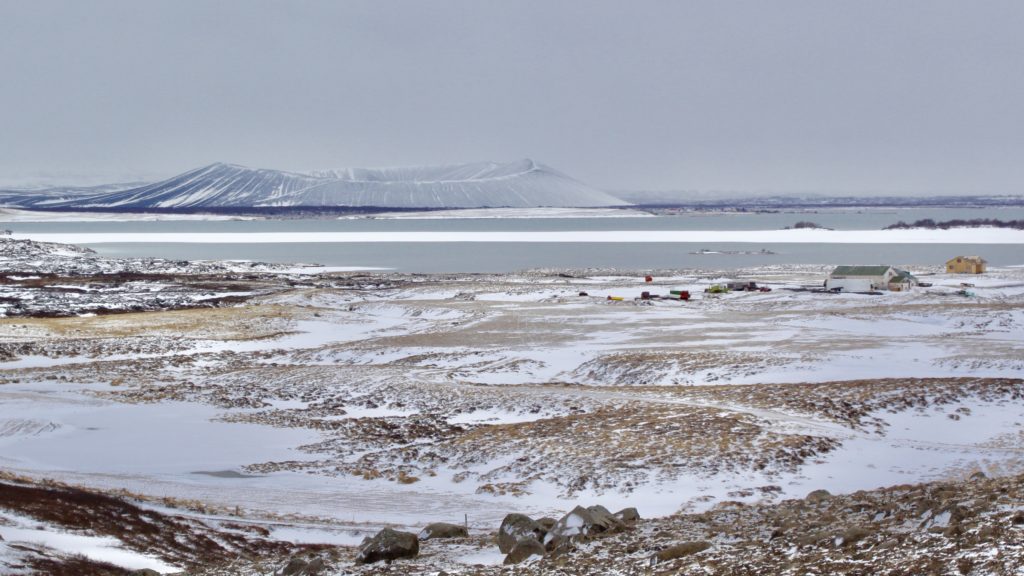 A small tangent: Icelanders repeatedly assure you that their tap water is safe to drink. This seems like an odd thing to reiterate, until you smell it: sulfur. It gives me flashbacks to summer camp, but not in a good way.1
Now, some areas of the country are better than others in the sulfur department, but at Myvatn it was serious, both in the water and the air. The steam from underground smelled of it—in some places it was mild, in others it was truly eye-watering. Being a chicken owner, you'd think I'd be more acclimated to the smell of rotten eggs.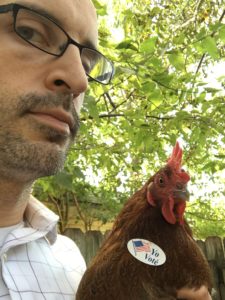 My other major stop at Myvatn was Dimmuborgir, a giant playground of lava formations that have frozen over time into strange hoodoos of crooked rock.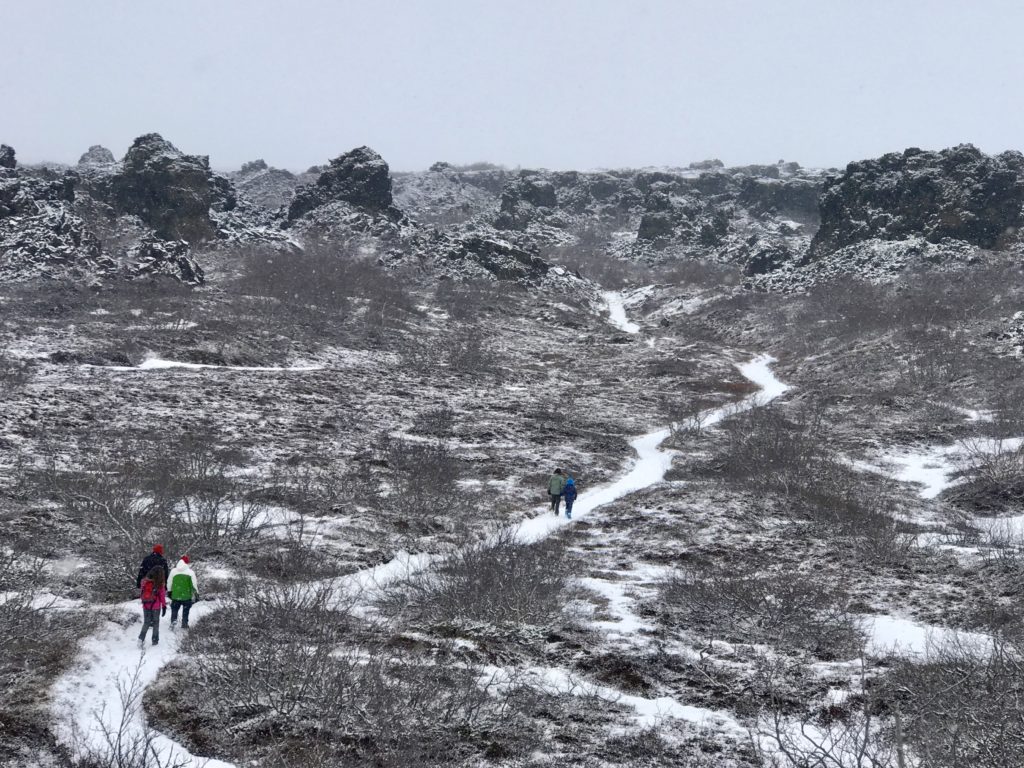 Before heading out of the area, I had a customary tourist experience: pull over and pet the Icelandic horses, distinctive with their stocky physiques and emo haircuts. The interaction turned awkward, though, when I discovered they don't like bananas.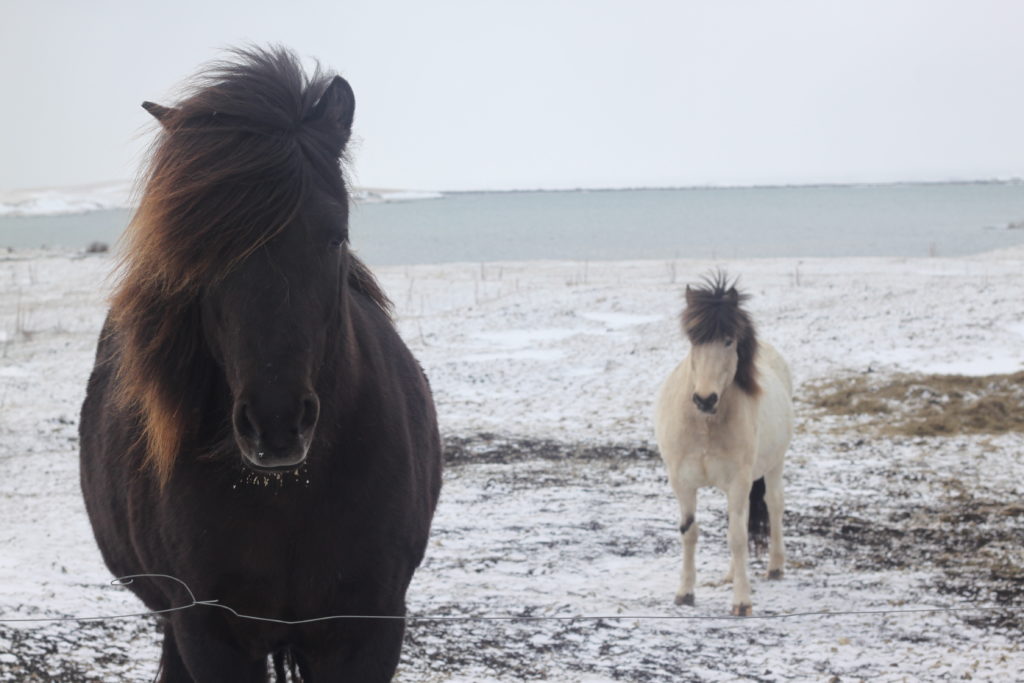 There was plenty of time on the clock for the day, so I took a detour up north to Húsavik. The extra drive took me past more and more fields filled with jumbled piles of frozen lava, not as snow-covered as those back at Myvatn. Finally I rounded a bend and, for the first time in my life, saw the Arctic Ocean.

I loved Húsavik! Charming little town. At the whale museum, there was a macabre but fascinating display of over half a dozen skeletons from beached whales, including a blue whale and a narwhal. I could've paid for a whale-watching tour, but I had other plans for spending all my money, so I headed back south.
The schizophrenic weather had veered back to brilliantly sunny. Weather is best divided into quarter-days in Iceland, I've found. I drove through a gap in a tremendous snowy mountain ridge and then, as though arriving at the end of a quest, I descended to the glorious fjord that would lead me to Akureyi. (ah-KOO-ree-yeh, I think.)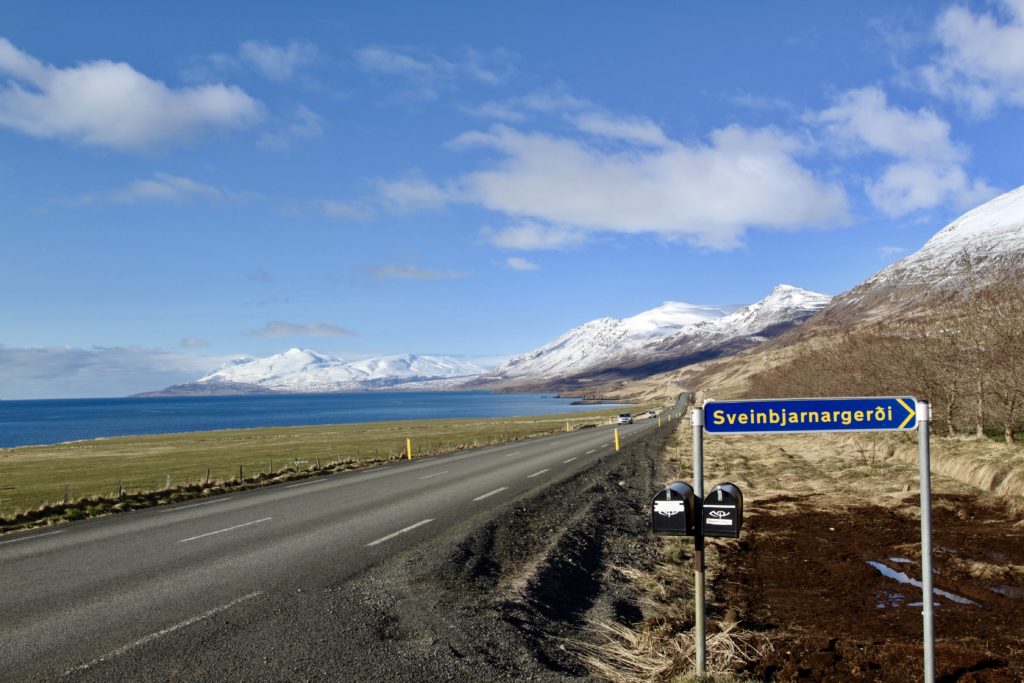 Today was the midpoint of my epic road trip, and I was celebrating with a night in an honest-to-god hotel, with a BED and a SHOWER. I also got a Moscow mule at the hotel bar, which at happy hour prices was "only" 1,500 ISK (that's almost $13.50).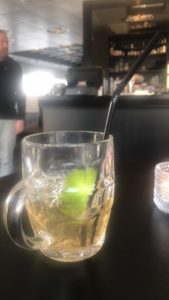 Since it felt a little absurd to make dinner over Björk's gas stove in the hotel parking lot, I extended Treat Yoself Thursday to include dinner across the street: locally-caught Arctic char with polenta and salad. Hello, delicious fresh food! Goodbye, $50! Food is 'spensive here, y'all.
Having successfully parted my foolish self from my money, I forced myself into some productivity at the hotel desk before reminding myself what a warm bed in a climate-controlled room feels like…
Oh, yeah, I could get used to this.
Total random side note: Apple Pay works *everywhere* in Iceland. It's amazing.