Day 15: I bet Custer was a Democrat.
Day 15: I bet Custer was a Democrat.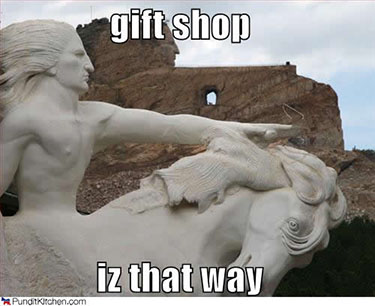 "This monument has never accepted any government funding, and it never will," says the woman on the screen. "He [the sculptor, Korczak Ziolkowski] believed in individual initiative and private enterprise," she lectures. "He didn't believe in waiting for a handout"—here she pointedly extends her palm—"from the government."
And I thought I was here to learn about a statue.
But then the Crazy Horse Memorial, a dozen miles away from Mount Rushmore in the Black Hills, is kind of nutty in general. They've been blasting at the side of a mountain here since 1948. To call it the largest statue in the world doesn't really get the point across. It's going to be 563 feet high and 641 feet long, big enough that all of Mount Rushmore could fit inside Crazy Horse's head. The horse's head is 22 stories tall. The gap under Crazy Horse's arm will hold a 10-story building. And so on.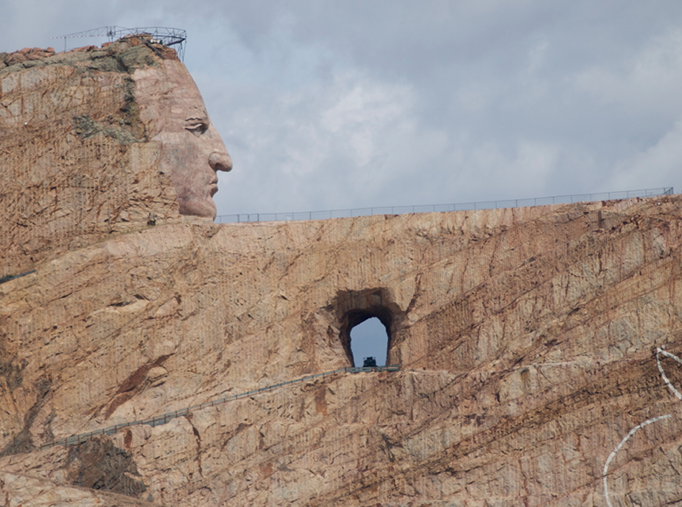 Then there's the Fox News angle that the introductory video took. Ziolkowski didn't accept any government funding because he was afraid the government would never finish the monument; instead, they operate on private donations alone, and they finished Crazy Horse's face on the 50th anniversary of work starting. Nobody would even offer a guess when it might be done, but it's not likely to be in our lifetimes. God bless the free market, or something.
Oh, my favorite WTF quote from the video: "He wanted the statue to be owned by the public, not by the taxpayer." …Okay.
So that was an oddly political part of my day. But lemme back up to sunrise at the Montana-Wyoming border.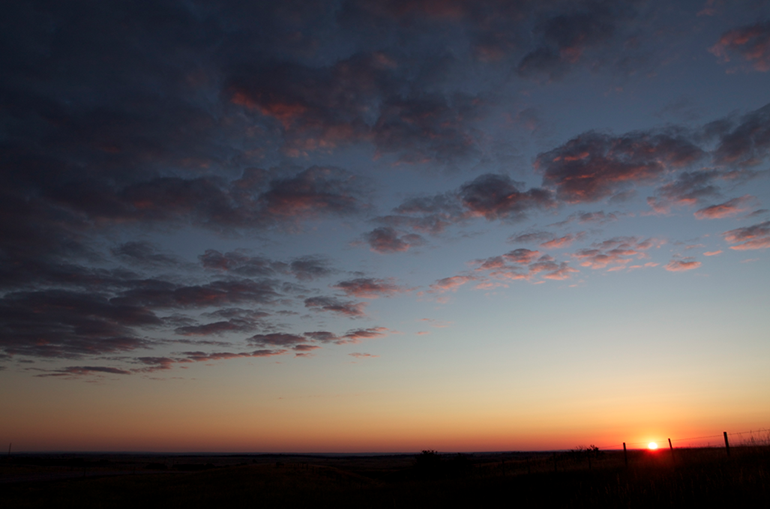 I woke up shivering in the front seat. I was still sleepy, but way too cold to do anything but fire up the heater and hit the road.
The usual complement of deer were munching along the sides of the road (and at one point, so was a flock of wild turkeys). The sunrise was just as beautiful as sunset had been. Oh, and I drove past a freaking surface-to-air missile launcher. So that was something.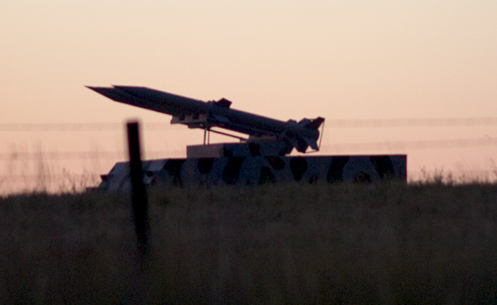 In less than an hour I rounded a bend and saw Devils Tower* standing alone in the distance. It's even more bizarre-looking than Chimney Rock & Friends™ down in Nebraska.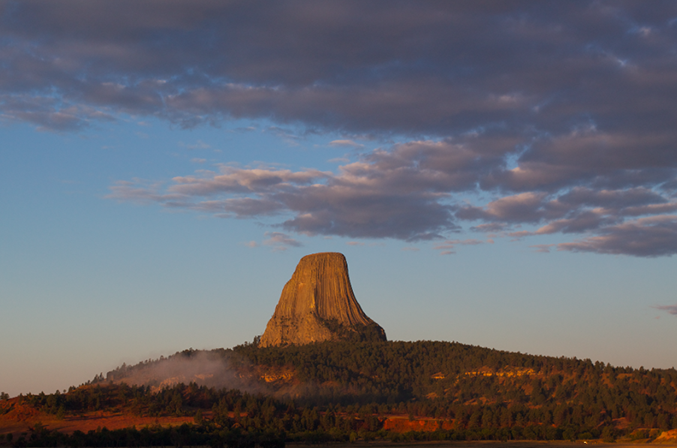 I was the first one in the parking lot. I got out of the car and realized my feet were still killing me. So I found my running shoes and went Full Seinfeld for the day.
Devils Tower is much more impressive up-close. It looks different from every angle. Fun facts: it's the largest example of natural geometric columns in the world, and it was America's very first national monument (declared by Teddy Roosevelt in 1906). And in 1941 a daredevil successfully parachuted to the summit of the rock, only to be stranded for six days before being rescued by a team of rock climbers. Smart guy.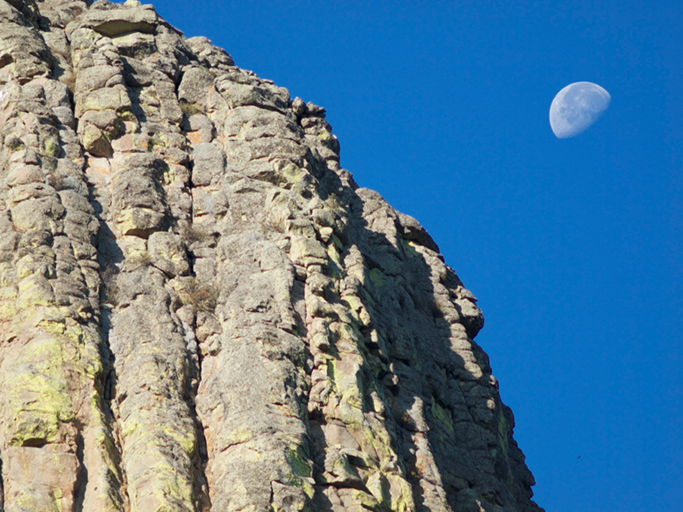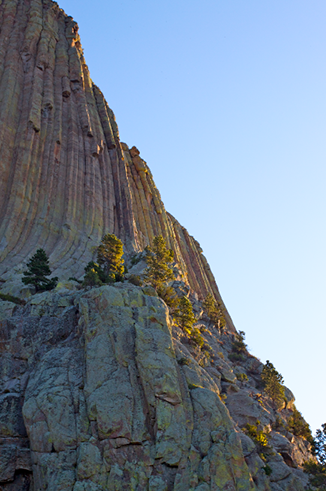 Devils Tower is also home to a large town of prairie dogs that are basically domesticated. Two German tourists and I (I swear, they're always Germans) snapped pictures while the dogs tittered at each other and nibbled at grass.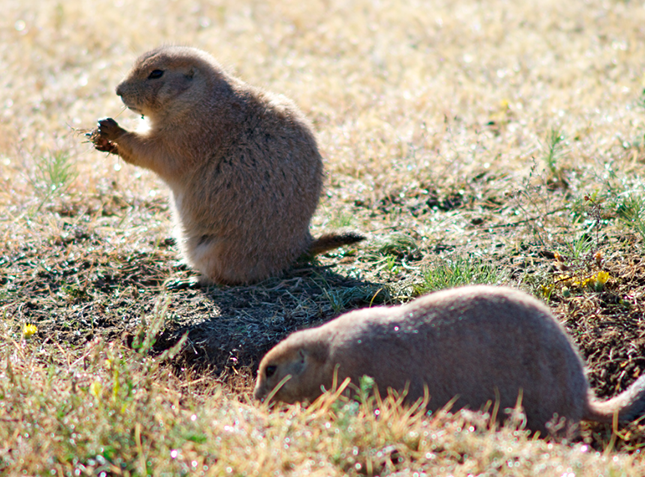 Then I hit the road again, headed towards the Black Hills in the corner of South Dakota. I passed a historical plaque noting George Custer's expedition into the area in 1874, which was in direct violation of an existing treaty with the local Indians. Custer was a dick.
There's no real straight roads in this part of the country. Here's my route for the day: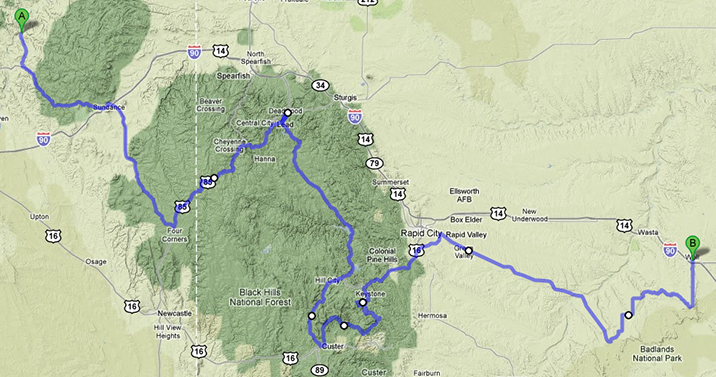 After many twists and turns I was suddenly in the Black Hills, covered in dense pine forest the whole way through. I passed through Deadwood, which I might be able to find something interesting about if I spent the day there—at a glance it seemed like some nice historic-looking buildings, most of which were slot-machine casinos. No Mr. Wu anywhere to be seen.
From there I headed to the Crazy Horse Memorial, which was much much more interesting. (It really is a cool-looking statue, don't get me wrong. Just a toooouch grandiose.)
Afterwards I paid the rapey-seeming park entry fee of $15 to drive along the six-mile Needles Highway between Crazy Horse and Mount Rushmore. The spindly Needles are really cool-looking, though. Rock climber's dream. Wish I wasn't still walking like an old man.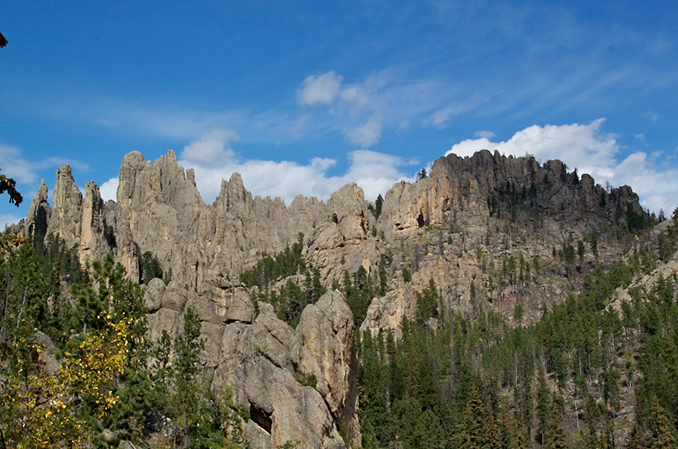 One of the Needles Highway's trademarks is its one-lane drive-through tunnels. On its eastern half, two of the tunnels are perfectly aligned to give a view of Mount Rushmore in the distance as you drive through them. Pretty awesome.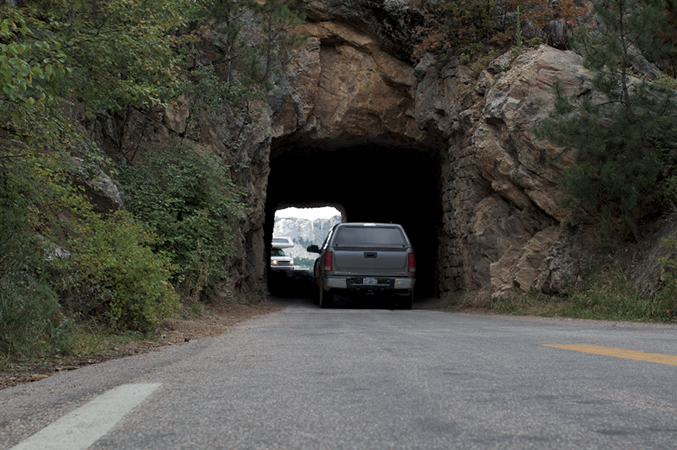 Here were the tightest switchbacks I'd driven on the whole trip. In three places there were even wooden pigtail bridges from the 1930s that made me feel like a Hot Wheels driver. Wouldn't call the whole thing worth $15, necessarily, but it was easily the prettiest part of the day.
Then I was at Mount Rushmore, final tourist attraction of the day, and miffed to discover that my Nat'l Parks Pass does not cover the $11 parking fee. (You warned me, Michael!) I'd seen the mountain from a distance, and I couldn't see myself getting $11 of enjoyment out of seeing it up close. So I just looped right back out of the lot and was on my way.
Heading northeast out of the Black Hills, it was Tourist Trap Heaven. There were billboards for reptile gardens, caves, mine tours, gold panning, cash for gold (heh), even a "mystery spot," whatever that means. I successfully withstood the onslaught and zipped around Rapid City.
And then the pine forest was behind me, and I was back to Dances With Wolves territory. (I even glimpsed of a Dances With Wolves logo on a billboard, so it might have actually been filmed nearby.) Just as quickly, 45 minutes later, I found myself entering the Badlands, where the yellow prairie has been weathered away to beautifully ugly scarred hills.
I entered Badlands National Park, which of COURSE you get to via a dirt road. I made it to the first overlook, which I'd need a giant panoramic picture to properly capture. Behind me it was perfectly flat. To the west, the sun was riding low above the rolling hills. To the south and east, the landscape of the badlands rose eerily. It was a cool confluence of topography.
It was too late to go for a hike, and too early to find a campsite, so instead I drove BACK out of the Badlands to the north, and 10 miles later was in Wall.
Know what? This entry has run long. Wall Drug gets its own blogpost.
*No apostrophe in "Devils." Some kind of mountain-naming-convention thing.