Iceland Day 6: Drivin' in a Winter Terrorland
Iceland Day 6: Drivin' in a Winter Terrorland
I was right to worry.
The snow at the Höfn campground had melted overnight (which is not what I'd have expected, but, that's Iceland for you). As I left town and drove to higher elevation, though, it reappeared. The first vehicle I passed was a snowplow, which would seem to be a good omen, but turned out to be a bad one. The road, it turned out, was only cleared in one lane—the southbound lane. And so, crazy as it sounds, for long stretches over the next 100 km, I was driving into oncoming traffic.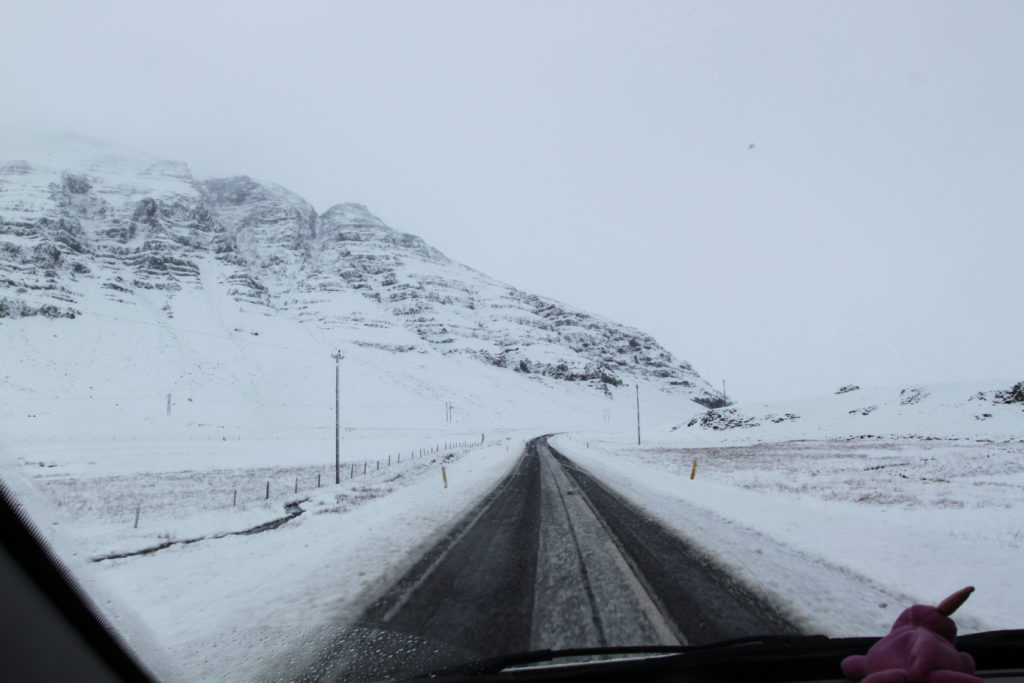 Any time another car (or a blind turn) approached, I carefully eased Björk onto my own slushy side, then back into the oncoming lane. Thankfully, the road was practically empty; I passed fewer than ten cars in two hours.
The weather worsened. At one point I was being simultaneously pelted by rain from above and snow from the side—and just to maximize the danger level, thousands of killer geese1 floating in the ocean to my right. The whole thing felt positively Biblical.
And speaking of Jesus Christ, at one point I caught a patch of ice and began sliding at an angle toward the far edge of the road and the steep embankment beyond. Now THAT will wake you up in the morning, my friends.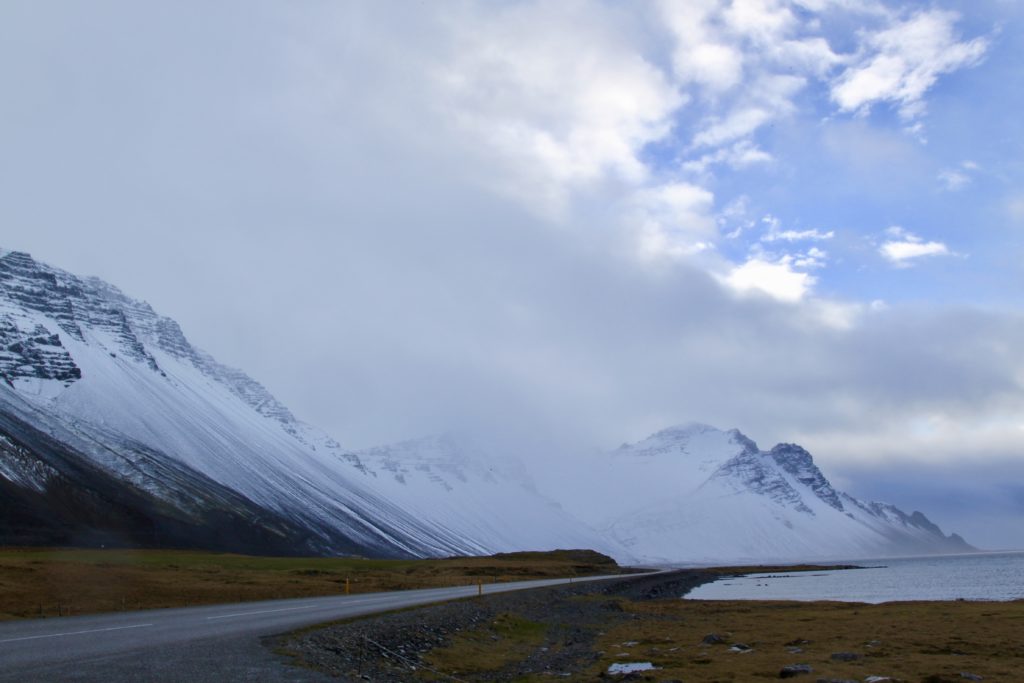 I finally stopped in the little town of Djúpivogur to celebrate my continued existence and make breakfast in the back of the camper (yum yum, freeze-dried scrambled eggs and coffee). Then I saw the sign for the local baths and decided to stop in. The place was largely empty, just myself and a couple of locals. It was an unremarkable experience, but again, felt quite genuine, like a brief glimpse into Icelandic life.
North of Djúpivogur the road was cleared of snow and relatively easy going, though it turned to gravel for a short stretch.2 Snow continued to blow around me, almost certainly obscuring some spectacular views, but creating its own weird experience. In places it hovered in a stationary fog a few inches off the road. The world was black and white.
I drove a six-kilometer-long tunnel deep under a mountain ridge and emerged into a valley that took me to the day's major stop, Egilsstaðir, population 2,306. After a coffee in the local info center, I took a side trip to Seyðisfjörður, best known from "The Secret Life of Walter Mitty."3 It was yet another snowy drive up and over a mountain ridge to get there, with still more eerie black-and-white vistas as I went.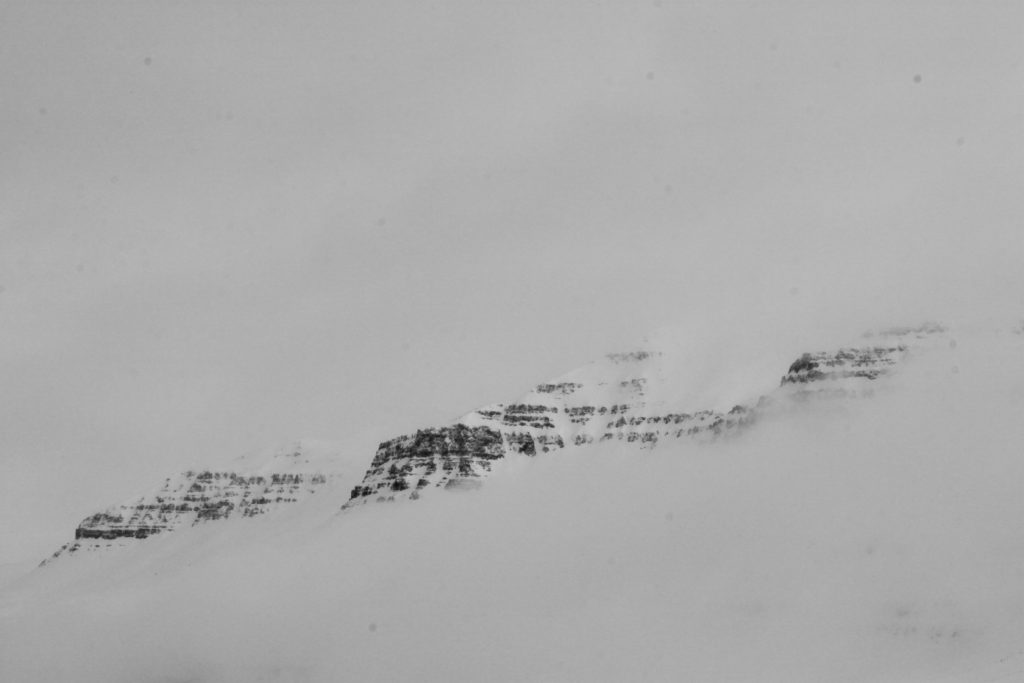 And it's just about as far as I'm going to get from Reykjavik, and Texas, before heading back.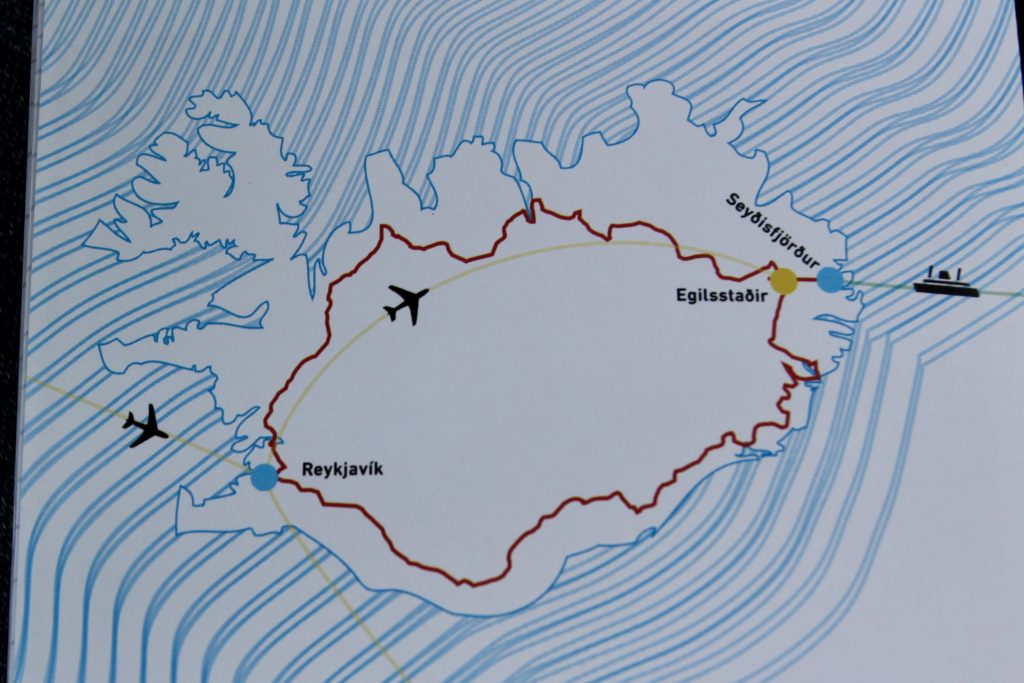 Arriving in the scenic little town, I found… not much to do. The few tourist attractions were closed for the winter. ("Winter" lasts until May in Iceland.) So a few pictures later, I drove right back the way I'd come to Egilsstaðir. …Okay there's not much to do here, either. Earlier I had asked the worker at the tourist center if there was a local pub; she circled a location on the map that turned out to be a secondhand store. Welp.
For the day's final leg, I drove southeast out of town to Lake Lagarfljót (also known as Lake Lögurinn, apparently?) and along its eastern shoreline to my campsite for the evening. There I settled into my evening routine: typing this entry, listening to a podcast, eating freeze-dried dinner. (Veggie burrito bowl. Not as good as the gumbo.)
Tomorrow, the road adventure begins all over again—the next stretch of my trip was labeled "slippery" according to the road-conditions website this afternoon, and there's more snow in the forecast. This is what I asked for, dammit!!
And now, this.
This would not normally be worth mentioning, except that this is the Ring Road—the ONLY highway around the country. There's not a paved road to get from north Iceland to south Iceland and I think that's marvelous.